Best recipe from: https://www.tasteatlas.com/cuban-sandwich/recipe
A Cuban or a Cubano is a grilled, pressed sandwich made with Cuban bread that is filled with ham, roasted pork, Swiss cheese, pickles, and mustard. It was originally invented by Cuban immigrants in Florida, who wanted to make their own variation on a classic grilled ham and cheese sandwich.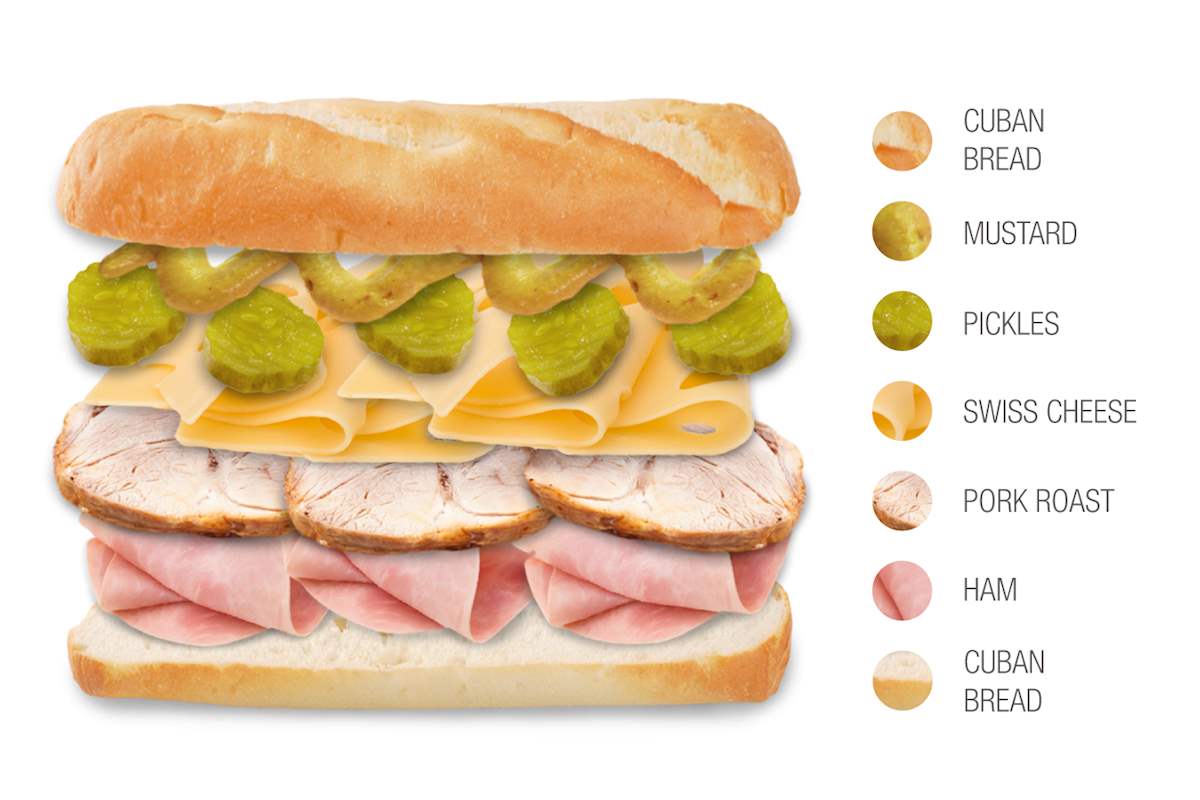 ROASTED PORK
3 cloves garlic
1 teaspoon salt
1 tablespoon dried oregano
1 cup minced onion
1 cup sour orange juice
½ cup Spanish olive oil
1 (2-pound) boneless center-cut pork loin roast
CUBAN SANDWICH
4 Cuban breads
butter, softened
dill pickles, sliced
1 pound thinly sliced roasted Cuban pork
1 pound thinly-sliced good quality ham
½ thinly sliced mild Swiss cheese
yellow mustard (optional)
cooking spray
1 For the marinade, mash the garlic and salt in a pestle and mortar. Put the mashed mixture in a small bowl and add onion, oregano, and the sour orange juice. Mix altogether. Add the mash to a saucepan in which you've heated some oil. Stir well. Turn off the heat and set aside.
2 Pour the majority of the marinade over the pork, which you've pierced thoroughly using a knife or a fork. Cover and refrigerate for 2-3 hours.
3 Place the meat on a rack in a roasting pan into a preheated oven (325 degrees). Drizzle the pork with the remaining marinade. Roast until completely cooked, about 20 minutes per pound (until the meat thermometer registers 160 degrees). Grease the meat occasionally with cooking juices. When cooked, let the pork rest for at least 20 minutes before cutting it to thin slices.
4 Bring the leftover pan juices to a boil and simmer until the liquid is reduced by half. Use this juice to moisten the meat in the sandwiches.
5 Divide the bread into four 8-inched sections and slice them in half horizontally. Spread the butter on each side of the halves then stuff the sandwiches in the following order: pickles, roasted pork, ham, and cheese. Add mustard if desired.
6 In a preheated pancake griddle or a frying pan coated with cooking spray, press sandwiches, one by one, using a heavy iron skillet or a bacon press – the aim is to flatten the bread to a third of its original size. Grill until the cheese melts and the bread becomes golden in color (about 2 to 3 minutes on each side). Repeat the process for all the sandwiches. Before serving, slice each sandwich diagonally in half.
TIPS
bread
If you can't get a hold of Cuban bread, you can substitute it with French bread, just not a baguette because it is too narrow and too hard to press correctly. You need a loaf that is crusty on the outside and soft on the inside.
ham
Cubano can be made with several types of ham. The most popular recommendations include sugar-cured ham, honey-glazed ham, and Serrano ham. Some claim that the sweet-cured hams are the best choice for this dish because of their subtle flavor, which does not overpower the other ingredients.
serving
The sandwich can be served hot or cold. It is often cut diagonally before serving.