Corporate Team Building Cooking Activities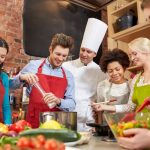 TSC has been uniting teams through hands-on cooking since 2015. Our hands-on corporate cooking events encourage team building activities, group bonding, improved communication, and foster camaraderie while whipping up fun in the kitchen!
Select from our corporate event formats, ranging from reception-style appetizer parties to Iron Chef-style cooking competitions. Whether you want a casual event or formal dining experience, we'll customize the event to fit your needs.There is a minimum of 10 guests for this service.
WHAT WE DO:
Tutor students on the tricks of the "trade".
Offer suggestions on healthy cooking.
Share our exclusive recipes.
Teach you a "hands-on" approach.
Place guests in teams and practice problem solving.
Encourage students to share their kitchen/cooking stories.
Support and guide students to be the best cook/chef they can be.
Share a meal together.
Offer different food themes such as Mexican, Italian, Japanese and other flavours.
Allow class to document the experience.
Invite everyone to other come again!
check out our Cooking School page here or call our chef directly at 403.667.9811
Your Food experience and COVID-19 & The Spice Chica
WE ARE OPEN FOR BUSINESS COVID-19 UPDATE Sept 20, 2021

In compliance with the recent government of Alberta COVID-19 measures and our role as a service to the community, effective Monday September 20th we
will participate in the "Restriction Exemption Program" (REP) to continue business operations.  B

y participating in the REP, Spice Chica can maintain guest numbers which enables us to retain all of our wonderful staff and ensures we are fully operational, so we may continue to be an integral part of your food experience. 

We will implement the following at all Spice Chica Experiences locations (Alberta and Canada wide):

◊Indoor Events:

 

Happy to do 'Private Dinning' for Indoor private events for vaccine-eligible, vaccinated Guests. (only) REP participation. (

no

 guest limits)

 

◊Teaching Kitchen will be reduced to 10 vaccine-eligible, vaccinated guests.  

◊Chimichurri or Catering Delivery: your order will be dropped off at your home/business. Or order online for pick up. 

◊Inglewood Cooking School remains Closed due to circumstances as a result of the world-wide pandemic. 

◊Any other "hands-on" experience will participate in the "REP" to continue full operations. 
 

>As required by the REP, as of sept 20- Oct 25 guests over the age of 12 will be required to provide proof of vaccination or a negative COVID-19 test from the past 72 hours upon experience entrance. 
>From October 25 onward, TSC will require proof of double dose vaccinations, proof of medical exemption, or a negative PCR or rapid test result to be a guest at any private dining experience.  
>TSC is currently accepting in-person physical or electronic proof of vaccination (from any province). 
 
⊗If you are unvaccinated and unable to provide negative testing or medical exemption, but still wish to purchase product, TSC remains available for retail purchases online at http://www.thespicechica.com or by phone at 403.667.9811 with the option for contactless pick up. 
 
>Additionally, TSC Is happy to offer the option for a virtual cooking class for our guests! If this is your preference, kindly let Marina know upon booking your experience. 

--------------- 
For 18 months, my staff and I have done our best to offer the private dinning/cooking class experience to our guests that we dearly enjoy and have grown to love while prioritizing the health and safety of our community and in your kitchens. We will continue to do so…As always, this is my commitment to each of you and I'm looking forward to cooking, sharing a meal or dancing together. 
⠀ 
Your kindness and support mean a lot to me and lifts my spirits to stay in business in this beautiful province of Alberta. Thank you for the privilege of entering your home, cooking in your kitchen and having a spot at your dinner table. 
⠀ 
sincerely, 
 -------------------------
Chef Marina is AVAILABLE for private chef experiences or parties in the comfort of your home, corporate office or kitchen - please contact at 403 667 9811.
COVID19 & Variantes: The Spice Chica & Our pop-up locations have taken immediate steps  to help keep our customers and employees, safe and healthy.
Reinforcing our already rigorous standards and operating procedures for food safety and personal hygiene, including disinfecting all high-touch areas with a hospital grade disinfecting cleaner.

All employees to take precautionary measures, including frequent hand washing, glove changing, social distancing, staying home when sick, and pausing all non-essential travel.  In these uncertain times, one thing that remains unwavering is our commitment to bring you and your loved ones the best possible Spice Chica experience.

All our staff is double vaccinated.

Staff will wear a mask upon request.
                      We thank you for your continued support!
Fan Praise
What people are saying about The Spice Chica…
Hi Marina, A couple years ago we tried your pasta making class and had a blast. From Theresa B. in Calgary 2021

Hi Chef! It was a dry spice to mix in with the dough. It coloured the pasta and also gave it flavour! Also thank you for the recipe! I look forward to taking another class when things start opening up … Read More

We love You! You make the party! See you soon in May to cook outdoors ! kim & Jason in Chestermere Feb 2021
Good afternoon! I took a pasta making class a couple years ago and you were fantastic! It was a really amazing experience. I am looking forward to the pandemic being over and signing up for another class. I have a … Read More

Hi Chef! What a beautiful job you did with the parcel drop off – you made everyone's day during these hard pandemic times! I will make sure I thank the sender. Thank you again! Stephanie; emergency nurse at Foothills Hospital … Read More
food delivery to hospital emergency dept.