Corporate Team Building Cooking Activities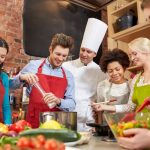 TSC has been uniting teams through hands-on cooking since 2015. Our hands-on corporate cooking events encourage team building activities, group bonding, improved communication, and foster camaraderie while whipping up fun in the kitchen!
Your Food experience and COVID-19 & The Spice Chica
COVID19: WE ARE OPEN FOR BUSINESS
Chef Marina is AVAILABLE for private chef or parties in the comfort of your home or any outdoor BBQ spot or kitchen - please contact at 403 667 9811.

The Spice Chica Cooking Schools is temporarily closed as schools are part of the AHS step 3 re-launch process. If you have a coupon that has expired or is about to expired, there is no need to worried as we will honour them as long as the 3rd party you purchased it from is still in business at time of our reopen. We are assuming a re-open date of late august.  

COVID19: The Spice Chica & Our spice branches have taken immediate steps  to help keep our customers and employees, safe and healthy.
•Reinforcing our already rigorous standards and operating procedures for food safety and personal hygiene, including disinfecting all high-touch areas with a hospital grade disinfecting cleaner.
•All employees to take precautionary measures, including frequent hand washing, glove changing, social distancing, staying home when sick, and pausing all non-essential travel.  In these uncertain times, one thing that remains unwavering is our commitment to bring you and your loved ones the best possible Spice Chica experience.
We thank you for your continued support, and we will continue to keep you informed as we take additional action.
Fan Praise
What people are saying about The Spice Chica…

Thank you so much for contributing to Steve's BD celebration!! The food was fantastic from appies , salads, desserts and of course the main event "The Paella".  We love the entire Spanish experience with singing, dancing and party favours !! … Read More
Paella and Spaniard night

Hi Marina, I just left you a phone message, but here are the details! My name is Laura Field. I am with the Alberta Cancer Foundation. I actually took a class you donated with Big Brothers and Big Sisters at … Read More

Hola Marina, Hope you are well and staying safe in these trying times. I ran out of what has become my favorite spice especially for chicken breasts! Anyway put in an order on your site. Regards, Paul in Canada June … Read More

Marina – thank you so so much for the meal kits today!! One of our volunteers sent me a couple great photos of you packing them! Thanks again 🙂 Cheers, Heidi Bench VP Operations 403-619-4204

Hi Marina, I hope you're doing well. Sènami told me that she really enjoyed her time yesterday so i wanted to thank you for taking care of her and her friend 🥰 Hope it was as enjoyable for you to … Read More