Meet The Spice Chica

About Her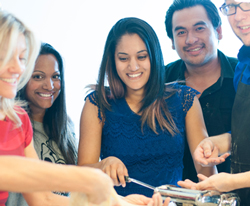 Book a Class or Event

Book The Spice Chica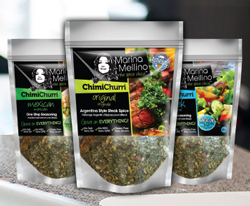 Take me home tonight.

Shop Authentic Spices
The Spice Chica
The Spice Chica is a personal chef, caterer and spice creator based in Calgary. Her desire to provide customers with superior products is exemplified and easily demonstrated in side by side taste tests and comparisons.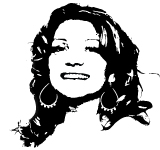 More importantly however, the aroma, flavor and authenticity of the dishes you create using Mellino Gourmet Spices & Blends will be enjoyed by yourself, your family and guests.
---
In the Community
Stay up to date with The Spice Chica. Come out to see and sample her products, present live cooking demos, give tips & tricks as well as answer questions.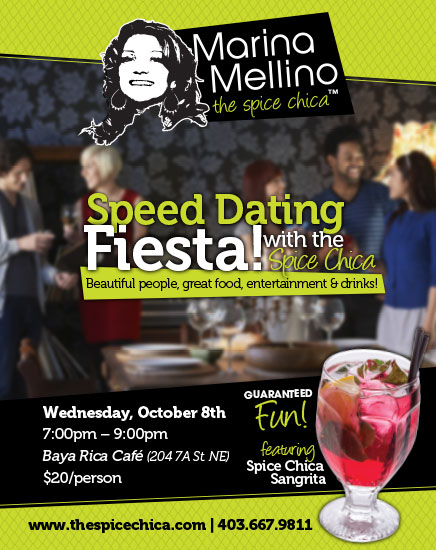 Check back often to see when the next event is happening. Click below to see where The Spice Chica will appear next!
Fan Praise
Thank you for coming to our house Chef Marina – we had so much fun! Hope to see you again on my birthday!
John R. June 2016
Hi Marina,

Thank you for teaching at our school this past semester, the food workshops were great, and the students were so excited to be participating.

Heather R.| Ted Harrison School
Chef! Our kids had so much fun – you are a great teacher!
Troy W. Calgary June 2016
Perfect time out, lots of fun!
Jennifer · May 16, 2016


Lot's of fun. Prepare to be flexible. Great was to spend an hour
Susan W.


Please bring in more supplies to Kalamata Grocery on 11th st SW. I've been out for weeks, and I need your delicious chimmichurri. I use it in almost everything I cook. For 3 weeks I've been asking the owner when it will be re-stocked.
Thanks!
Sabra M. in Calgary May 2016
thanks for everything, we all had SO much fun! I definitely will be doing again 🙂 Next time Argentina 🙂
Chanel, Calgary May 2016
Hello
I was in your past Sunday's pasta/gnocchi class.
Thanks for the class, it was so much fun! Looking forward to taking your empanada class next!! 🙂
December 2015
Hello,
My mother and sister come to your pasta making class last week.
They had a really great time!
Thank you,
Sept 2015
Hi Marina,
Thanks so much for the photos!  Harry has already used the machine 2x in the last 4 days.Here's a video of Harry from the 2014 Calgary International Flamenco Festival.
All the best,
Ciao Marina,
Thanks for your email note and website feedback.We very much enjoyed meeting you too!
Hope our paths cross again sometime.
Oct. 2015
Hello Marina,
I was in one of your pasta classes a few months ago. I loved your class and bought a machine. I love sharing what I learned from you.
Thank you and have a wonderful day.
Oct. 2015
Hi Marina,
Bobbi and I just wanted to thank you again for the pizza class.  We were so pleased with how it turned out, once again you made our weekend.
Please let me know if there's any room in the Argentinian class we would love to attend, although I don't know how well my Italian skills will transfer to Argentinian.
Thanks again and I look forward to hearing from you,
Sincerely,
Oct. 2015
Hi Marina,
it was a great party. Thank you so much. Thanks again.
Oct. 2015
Hi Marina,
I was at your pasta making class on Friday and enjoyed it tremendously! Thanks for a great time. Would I be able to get the gnocchi recipe that we made in class? I would love to make it for my family.
Thanks so much!
October 2015
Thank you so much Marina for sharing this photo. I will share it with the group. We loved our team building class making pasta!
More power to your school.
Kind regards,
October 2015
Hi,
We loved your cooking class last week!!! I can't wait to come back for another class. Could I have the gnocchi recipe, please?
Thanks
Nov. 2015
Marina,
I attended your class on Saturday and I just wanted to thank you for the great experience. You have the most beautiful and charismatic personality and I loved how you shared your passion for food with everyone in the class.
I am looking forward to attending more of your classes in the fall.
I also loved my spices!
Thanks again,
Shirazeh, Calgary
Hi Marina

We have been back one week now settling into a Sydney winter. It's nice to be home but we certainly enjoyed our travels and all the remarkable things we saw; Concha y Toro vineyards – wonderful gardens and the display of all the grape varietals from the 19th century onwards. Also a good tour of the cellars, a ghost story added in the underground cellars with all the lights turned off! Wow!
Good luck with your food ventures and lets stay in touch. 
Kind regards,
Pam and John
Great class and fantastic deal!
01/11/15
Nice class, very tasty!
June 6, 2015
Hi Marina
We are so appreciative of your support and look forward to seeing you at All-Star Weekend. Please get in touch if you have any more questions.
Warmly, 
Good Morning Marina,
We had so much fun making pasta this weekend that we want to learn how to make pizza too! 
Thanks!
Great Time! This is some serious bang for your buck.
"Great class! Tasty pasta. "
It was a fantastic time!!! I would definitely recommended it to everyone. 4 of us went and intend on going to all the classes."
Really, I love this seasoning so much…it goes on almost every meal!
Marina is awesome. Her cooking frees up a lot of my time. I've referred her to my friends with confidence and I am very satisfied with the services she provides.
Marina, thanks so much for organizing such a great night! As with all you do, you put your heart and soul into creating a memorable night for my family. You are the one and only Spice Chica! Having an event like this in our home was truly a unique experience, and one we will cherish always.
I had an awesome time, and will definitely be recommending a "Party with the Spice Chica" to my other friends. Thanks again Spice Chica, for the unique experience!
CHIMICHURRI: That's an original and unique taste, I really like it on a variety of foods.
, Vancouver, British Columbia
---
Latest @TheSpiceChica